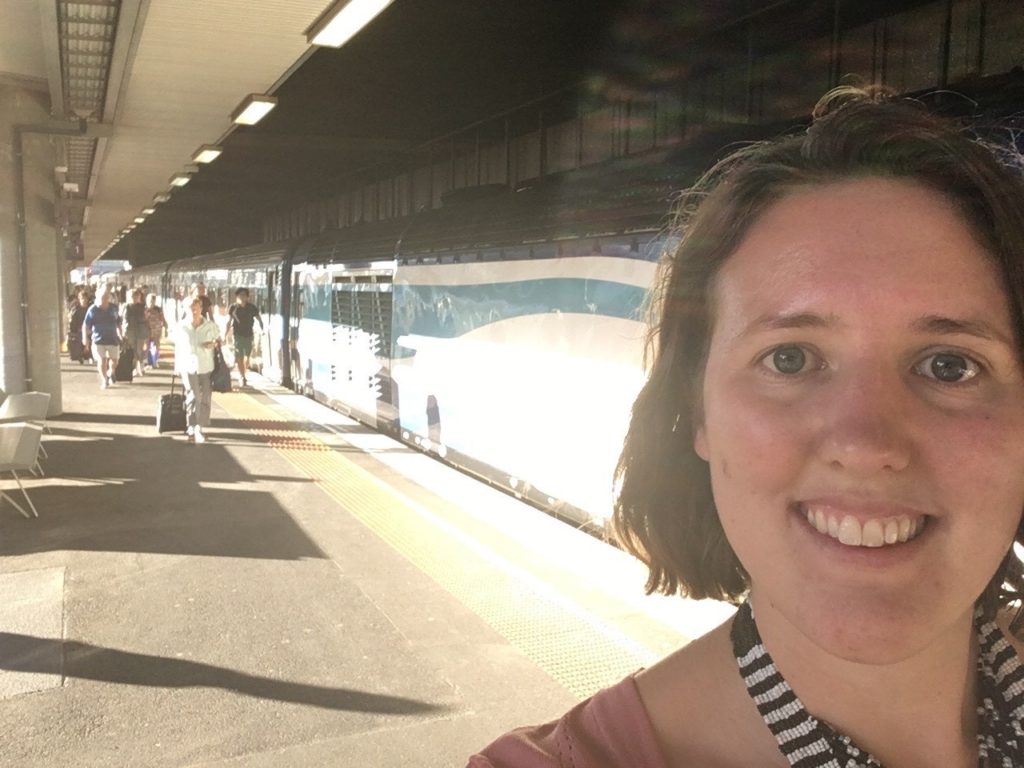 This first appeared on the TAKE2 website.
29 year old Michelle Kovacevic is conducting an experiment – one she hopes will inspire others to take action on climate change.
This committed and inspiring TAKE2 member has changed the way she lives to fight global warming. And she's realised one of the unexpected bi-products of this personal experiment has been contentment.
"In adjusting my lifestyle because of climate change, I've realised it's had a huge, positive impact on my wellbeing.
"I think of it as something of an experiment. I hope others will try it and see not only the impact they're having on the planet, but the feeling of contentment a more sustainable life can bring."
While Michelle is taking more time to stop and smell the lemon scented myrtle these days, this impressive and dynamic young woman is still juggling a lot.
As mentoring coordinator at YPARD, she works with farmers, researchers and entrepreneurs around the world to foster sustainable agriculture. She is the outgoing program coordinator for the Youth in Landscape Initiative. And she shares the role of Victorian coordinator for the Welcome Dinner Project, bringing Australians and newly arrived migrants together over a shared meal.
Michelle credits climate change with teaching her to challenge the daily decisions many of us make with little thought.
"Climate change makes me think more creatively about the way I live," she says.
One example was a recent work trip to Canberra – a two day stopover she would normally have taken by plane. But Michelle knew that flying for work formed her largest personal contribution to pollution.
"So I made the 10 hour train trip there, extended my stay to a week and did more work while in Canberra. I then car pooled with a friend back to Melbourne.
"By being more sustainable I connect with other people more. It's made me think about what I do with my time, rather than just rushing around a lot."
So what other daily actions does Michelle take to ease her impact on the climate?
"I'm investing in research and development for renewable energy projects by having my super with an organisation that offers sustainable investment options.
"I am looking at ways I can support community solar projects in the La Trobe valley to help with the transition from brown coal.
"I support Australia's first Indigenous youth led climate network (SEED) and the Wangan and Jagalingou people to break free from fossil fuel extraction in the Galilee Basin. It's about doing what I can."
"I cycle as much as possible, eat less meat and power my home with renewable energy."
Michelle says we shouldn't feel overwhelmed by climate change.
"It doesn't have to be all or nothing. You don't have to change everything. We need to be informed, question how we're living our lives and find out how we can do things better.
"The more I know, the more I can change." And if you need any help with that, just TAKE2.
TAKE2 is Victoria's collective climate change pledge initiative to reach net zero emissions by 2050, and keep the global temperature rise to under 2 degrees. 1 Million Women wants to get as many Victorian women as we can to lead by example by adding their name to the TAKE2 pledge.