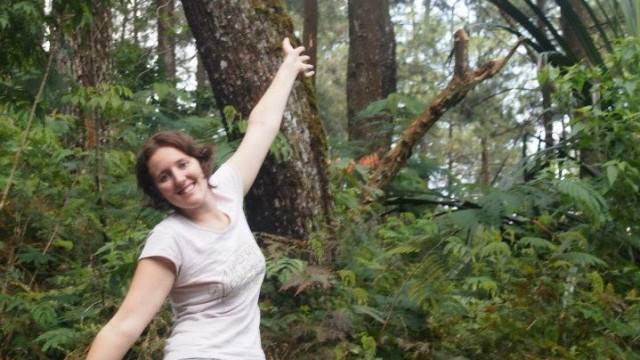 This was first published on Asia Options.
"How did someone with a background in neuroscience end up working at a forestry institute in Indonesia?"
It's a question I got asked by almost everyone I met while living in Bogor, Indonesia. Brows furrowed, trying to figure me and my eclectic career path out.
The answer starts in the year 2000 when I began studying Indonesian at high school. I found languages so exciting – a code that only you and a few others could decipher – and the culture and traditions of Indonesia fascinating. My love for science blossomed a few years later and it wasn't a strange decision for me to pursue a science degree and a concurrent diploma and Indonesian language at university.
Like many students, I threw myself into university life – joining umpteen university societies, organizing events and volunteering at a community radio station to name a few. It was a frenzy of activity that seemed to have no coherence at the time but little did I know these many and varied experiences would prove incredibly useful in my future career. But more on that later.
Again, like many students in their final year of study, I wasn't really sure what I wanted to do for the rest of my life. But I was sure that I wanted to spend my last Indonesian subject immersed in the rich culture, language and food.
At the time, the University of Melbourne made it quite difficult to go on exchange to Indonesia so I did a bit of research and stumbled across the Journalism Practicum Program offered by the Australian Consortium for In-Country Indonesian Studies (ACICIS). If I was someone else, I may have opened the application form and thought to myself, 'well I'm not studying journalism so not sure I am eligible, perhaps I won't apply.' But instead, I found a way in. One of the placements could be undertaken at the Center for International Forestry Research's (CIFOR) communications department. I emailed the program coordinators and told them I was studying science and had been doing volunteer communications work alongside my degree.
They accepted me with open arms and that's when I learnt one of my most powerful lessons – never let a set of selection criteria discourage you. Be hungry for opportunities and adventure – enthusiasm opens a lot of doors
I arrived in Indonesia ready to soak up all the amazing experiences ACICIS had in store. The five week program absolutely flew – starting with Indonesian language and culture classes at Atma Jaya University, finding a kos (boarding house) to call home in the sensory overload that is Jakarta, hanging out with university students at Semanggi mall on our class break and then saying goodbye to my course mates as we all began our 4 week internships at different media outlets.
All I knew about Bogor before I moved there was that it rained a lot (176 days of the year to be exact) and that it had a famous botanic garden.
I lay in bed nervous before my first workday at CIFOR. What if my lack of forestry knowledge meant that I was going to completely fail at this placement? But instead of letting the nervousness consume me, I endeavored to learn as much as I could about forestry science and how best to communicate it.
I started small – my first task was to set up CIFOR's Wikipedia page. Once I has mastered that task, I was asked to write a few popular articles profiling new research papers, which quickly snowballed into an opportunity to revamp CIFOR's blog into a forestry news website.
That four-week placement turned into three years (bar eight months back in Australia to finish my honours thesis in neuroscience). I became the youngest staff member at CIFOR and under my management, the blog became a leading example of modern day development research communication.
I was (and still am) passionate about not just being a science communicator but someone who could build the communications skills of scientists. I was lucky enough to see the transformative effect that this philosophy had on the scientific staff at CIFOR. The moments when scientists approached me with blog drafts they had written themselves and were keen to get advice on are still some of my most cherished memories.
I was given opportunities and responsibilities during my time in Indonesia that I don't think I would have experienced as a young professional in Australia. At a time when Australia's unemployment rate is rising, I highly recommend looking for career opportunities beyond your own backyard. There's so much out there in this world and you only need one person to give you a chance to prove yourself. Places like youngopportunities.com.au are a great place to start.
My last piece of advice is to cultivate unique experiences – it separates you from the pack. We live in a world of short contracts and high competitiveness that demand career seekers to possess adaptable and transferrable skillsets.
Who knows, in the future it may not be so strange to have an abundance of Australian neuroscientists working at forestry institutes in Indonesia.
Michelle is an Indophile who loves nothing more than talking about Indonesia with other Indophiles. Get in touch @kovamic