Encouraging environmental stewardship in Indonesia
When working at the Centre for International Forestry Research (CIFOR) I was asked to design and deliver a workshop for a visiting school group to demonstrate the importance of taking care of the environment and the impacts of climate change on forests. Activities included making biodegradeable planters, observing behaviour of cut flowers in hot water, learning about ecological footprints, and practicing environmental terms in Bahasa Indonesia.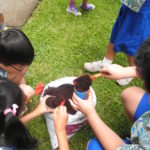 I also presented to visiting teachers from Australia, highlighting CIFOR's latest research on forests and climate change.